Today's Team...ready to go
A sunny day, perfect for a ride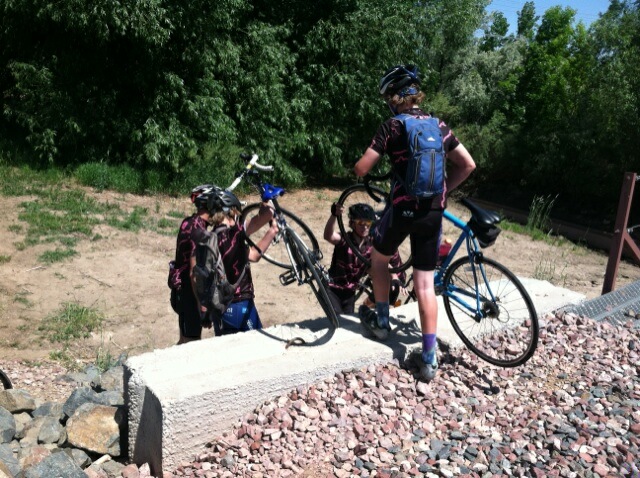 Back on track across the tracks
A good day with great friends
Day 3 broke warm and sunny for us at Clark Centennial Park in Longmont. The six riders for the Team that day gathered and quickly got started on the 25.7 mile ride to Fort Collins.
Older brother Jake Warnecke joined his mom, Wendy in handling the support of the riders and driving the Pink Lightning Team vehicle. Jake has fallen in love with the Yukon XL—as it has every options a SUV can have.
Out on the route we broke into two groups—the three teens, Bryan, Ethan and Theron—setting the pace with "the Steves" and Terry riding behind. Mark this as a win for the "old guys" as they were never too far behind.
Overall it was a smooth, fairly flat ride—that only got us off into the weeds just once when our ride ended abruptly due to flooding wiping out the trail. We had to scramble over some railroad tracks. Such is the life of the road cyclist! Another great day filled with sunshine, teenagers, friendship and fun!
Thanks to these riders:
Theron McAdoo
Terry Opgenorth
Steve Roy
Steve Warnecke
Ethan Whitson